Graco recently announced that their next-generation technology for liquid finishing automation is now available for sale. Stellair Auto brings all-star performance, swift serviceability and a low profile design to automated finishing systems.
No other automatic air spray gun provides paint technicians, service technicians and paint line managers with the same: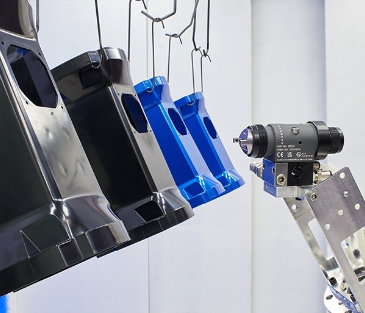 Industry-leading spray performance from material-specific air caps
Accuracy and repeatability ensured by an original spray pattern alignment and pathing tool
Speedy serviceability with fluid cartridges that take only a minute or so to change out, nearly eliminating maintenance-related downtime
Material savings because of a direct fluid path that flushes cleanly with little solvent
Automated equipment longevity due to a small and light profile that does not weigh down or wear out robot arms, reciprocators or flat line machines
Stellair Auto Air Spray Guns nearly eliminate maintenance-related downtime
This video shows how servicing a Stellair Auto gun takes less than one minute, a fraction of the time it takes to service a Graco AirPro Auto air spray gun. Such quick serviceability is one way their engineers incorporated feedback from automatic air spray gun users while designing the new applicator line. Another is the new spray pattern alignment and pathing tool.
Spray pattern alignment and pathing tool verifies spray angle
The Stellair Auto Alignment Tool (part number 200048) easily attaches and detaches from the gun to keep production moving. This video shows how to use the patent pending tool to set the angle of the air cap so that it matches the part being sprayed which reduces overspray and material waste and shows a finishing robot programmer if the front of the gun is the correct distance from the part. When used for robot pathing, the Stellair Auto tool prevents uneven coverage including runs.